What is the Relationship between Education and Health?
Does better education lead to better health or does better health lead to a better education?
While it is commonly understood that the more educated you are, the higher your income is likely to be, which is also likely to lead to better health. However, better health could help people become more educated. The answers to these kinds of questions help governments decide whether to invest more in education or in health care.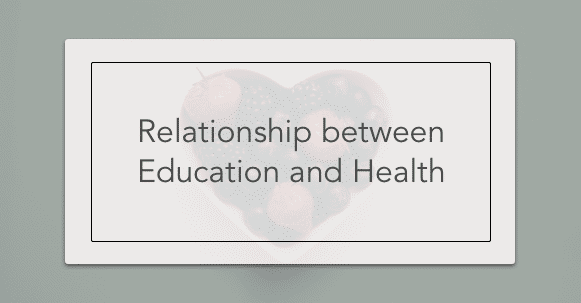 Some relevant statistics:
The mortality rate (deaths per 100,000) among American males without a

high school diploma

 between 25 to 64-year-olds was 655.2
For American males with high school diplomas, the mortality rate was 600.9
While for males with a college education or higher, it is 238.9
There are similar falls in rates of alcohol abuse, smoking, and obesity as schooling increases.
Education and Health

More-educated people are less likely to suffer from common acute and chronic diseases (heart condition, stroke, diabetes, asthma), but cancer seems to be the exception to the level of education. More-educated people are likely to exercise, use seat belts, take vaccinations and thus the effect of education on mortality is reduced by 30%.
The study suggests that even though higher education leads to higher income, which allows better access to better health care, the differences in income account for only 20% of the impact of higher education on health behaviors.
More educated people tend to be better informed and make a better choice when it comes to health related issues.
Better Health = Better Education?
High-income families are also likely to raise their child with higher nutrition and healthcare, which does lead to better education versus lower-income groups who find it harder to complete schooling.
Poor health in childhood may lead to lower education levels, and indicators such as low birth weight (predictor childhood health) suggest lower test scores and lower education levels.
The relationship of which came first remains inconclusive, but the impact of one on the other is statistically significant.
Source:
http://www.stlouisfed.org/publications/re/articles/?id=2092