The Medicaid program was created through the Social Security Amendments of 1965, which added Title XIX to the Social Security Act. The Medicaid program was considered to be an afterthought when Congress drafted Medicare but today the Medicaid program is bigger than Medicare, and with the Affordable Care Act, it has become even more significant.
Like food stamp programs, the Federal government lays the ground rules and significant funding but it is up to states to participate. The states have the discretion to make changes to some of the rules (like include individuals with higher income levels or offer additional services).
Timeline of the Medicaid Program
After Medicaid was introduced, more than half of the states immediately signed up. The amount the Federal government pays varies state to state, generally, the Federal government pays 50-75% of total Medicaid costs.
Medicaid offers outpatient, inpatient, ER, maternity and long-term care coverage. It also includes some optional services such as prescription drugs (widely available now but this wasn't covered initially since prescription drugs weren't a big part of medical care in the 1960s), dental, vision, medical equipment (low coverage), transportation and low copays (up to 5% of income).

How has managed care fared?
States are looking to private insurance to help them manage Medicaid patients similar to how the Medicare Advantage program is run. Studies have shown results to vary state to state since the programs have different rules in each state.
Some studies show cost reductions, others better access to quality since managed care payers ensure a Primary Care Physician is assigned to a beneficiary. There is very little difference in quality, but managed care has helped beneficiaries stay in the program.
Who is eligible for Medicaid?
There is a perception is that Medicaid is for low-income individuals however prior to the ACA, the program covered (under some conditions) pregnant women, low and middle-income children, poor elderly and disabled people (it is the largest payer for nursing homes).
Did you know that Medicaid covered 40% of all children under 17?
Large variation by State
Texas does not cover adults without children, but New York covers all adults below the federal poverty line (roughly $5,000 a year).
Texas covers parents who make up to 26% of the federal poverty level, New York covers individuals 150% of the federal poverty level.
Medicaid Costs
It is harder to estimate Medicaid payments than Medicare payments because it depends on the economy (if the economy is doing poorly then it is likely that more individuals will qualify for Medicaid) and the medical conditions of patients can vary greatly.
Enrollment vs. Costs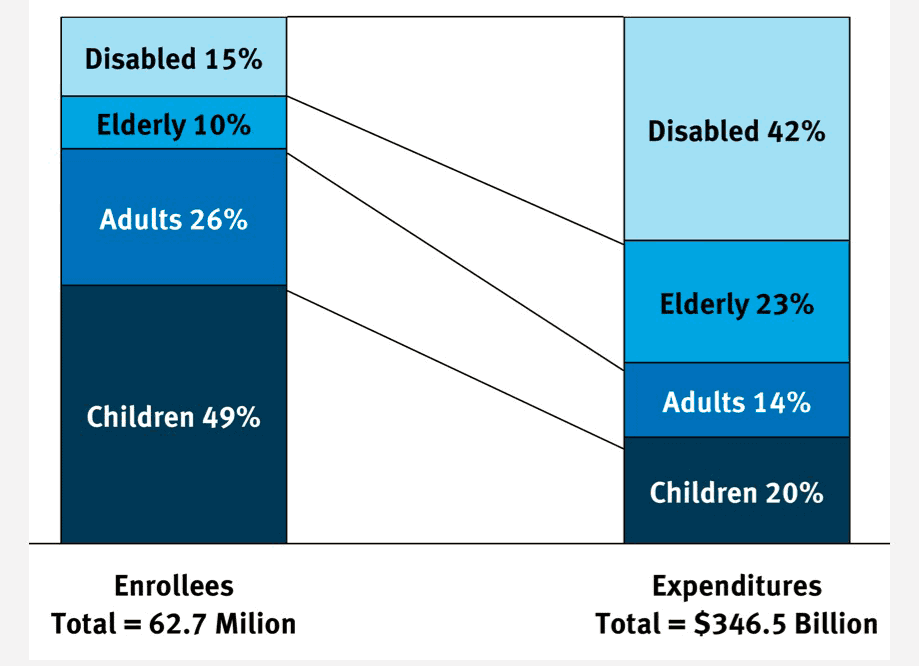 The Affordable Care Act adds more low-income adults so it may drive down per person spending. Some states are also experimenting with the Medicaid expansion like some states are charging premiums or higher copays for unhealthy behaviors, others like Arkansas and Iowa are using Medicaid dollars to purchase private insurance for low-income individuals.
More info:
Medicaid.gov
http://www.cbpp.org/research/health/policy-basics-introduction-to-medicaid?fa=view&id=2223
Health insurance protects us from the financial risk of falling sick but you need a diverse pool of risk for insurance to work since some people will draw in more benefits than others. A small percentage of the population will use a large proportion of the cost.
Costs and Benefits of Expanding Medicaid
Benefits of Expansion
It protects some of the country's poorest from the financial risk of bad health.
It gives more people access to good health.
Public insurance can help redistribute income.
Costs of Expansion
Raising tax dollars creates inefficiencies by introducing incentives that take away resources.
Future debt finances the expansion.
States can't expand their debt, unlike the Federal government.
People may use public insurance over private insurance (resource redistribution).
It is difficult to evaluate the benefits of Medicaid since the people who qualify for it are very poor and have disabilities. These factors may affect the outcomes versus people who are uninsured.
For example, Medicaid beneficiaries have a higher mortality rate than people who are uninsured but it is likely that the Medicaid beneficiaries' conditions (disabilities, low income) affect their mortality rate.
Medicaid Costs
This provided a rare opportunity to see the effects of the Medicaid program. The state of Oregon had 10,000 spots in the program but had a greater supply of enrollees (90,000). They chose enrollees by a lottery. It was ideal for a randomized control test. The study looked at the accepted enrollees in one group versus a control group.
Drawbacks of the Study
It only the first few years of the program and studied a relatively small population. Other studies like for Medicare have shown substantial increases in utilization over more time. The goal of the program is to provide a public benefit, which might not outweigh the cost.
Evidence on Costs
There was more utilization than before -an increase in hospital use, Primary Care Physician services and Emergency Room (ER) visits.
There was a 50% increase in the use of preventative care (doctor visits)
It actually increased E.R. use
Resulted in a 25-30% increase in overall utilization.
There is a case for moral hazard since the benefits of the subsidies made utilization more affordable.
Evidence of Benefits
It led to a reduction in financial strain. 25% less likely to send a bill to collection.
There was a drop in borrowing money.
Enrollees self-reported better health.
There was a decrease in rates of depression but did not improve blood pressure, cholesterol measurements.